Day 1 in Mazar
The feeling of being in a really special place on earth.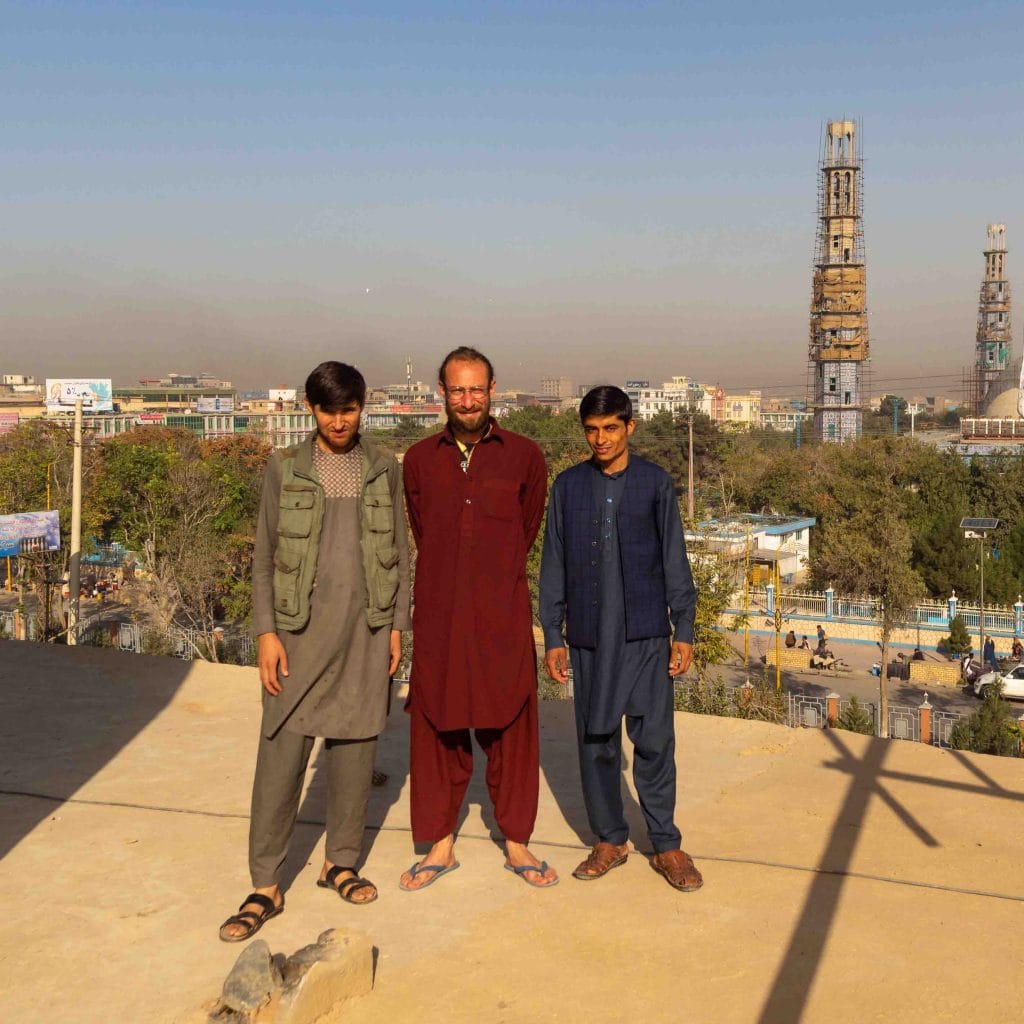 The first impressions
I still remember my first minutes in Afghanistan very clearly, especially the colours. There was this blonde sand colour dominating on the ground, the buildings, the hills around, and the dust flying everywhere. From this misty desert scene emerged two bright colors: the blues of burkas in all sizes and the yellow of plastic containers being transported by children, matching the yellow of the Toyota Corollas taxis. I took some time to understand what those yellow containers were. They were actually oil containers used for various purposes. Some children were carrying water in it, others food, and I understood it was also used by many street kids to store their shoe-polishing tools.
The taxi driver I went to was a bit surprised that I didn't speak Dari, but we managed through English and Hindi. We got into the taxi with two other passengers, smiling from ear to ear at my Turkish/Hindi/English mix. They got a bit confused when they understood that I was French and that I was not there to work but for tourism.
Hotel Aamo was the cheapest hotel I could locate on a map, so I asked them to drop me there. In "Afghanistan, Fortress of Cannabis" I explain how I made it to Mazar-e Sharif and why I thought it would be the ideal entry point into the country.
Hotel Aamo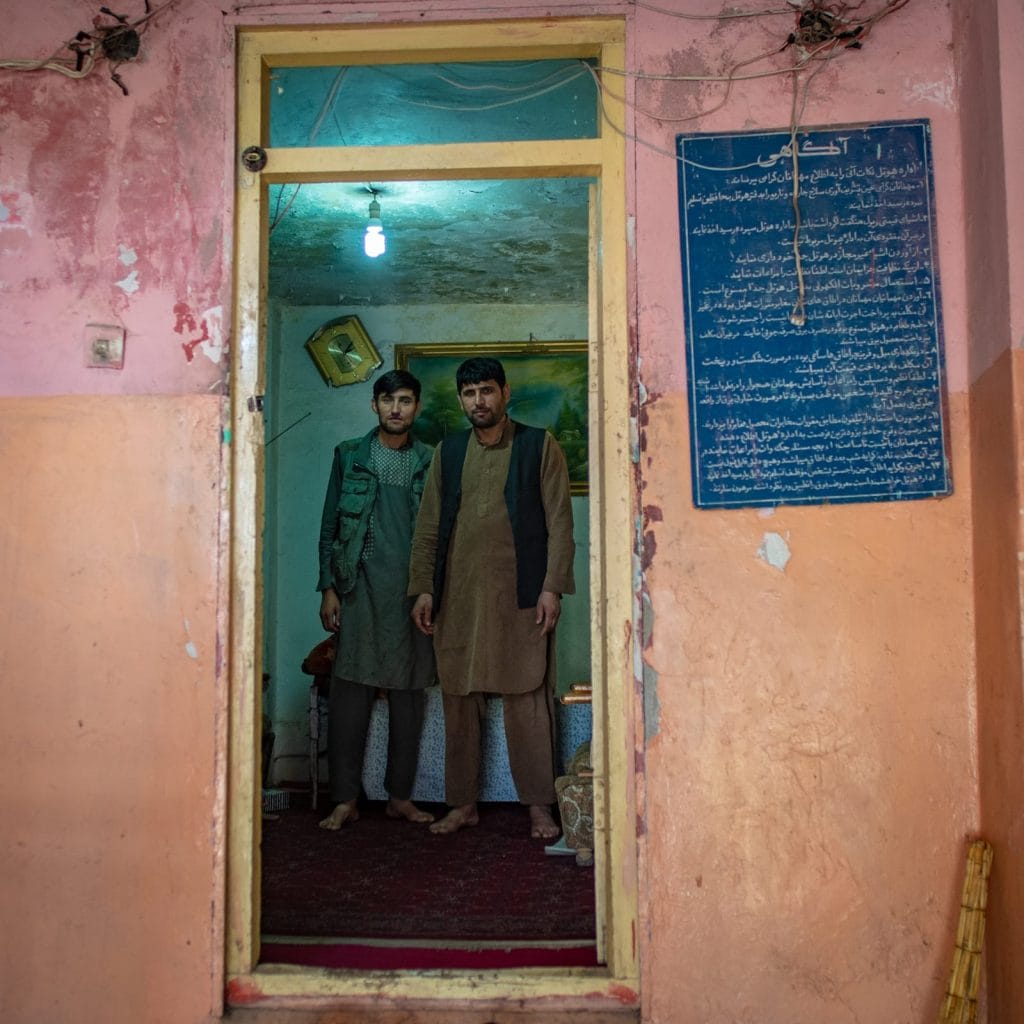 The hotel was in the heart of Mazar, facing the entrance to the massive Blue Mosque compound. I thanked the driver and his passengers, who wished me luck and told me to be careful with my phone. I got up the stairs of the hotel, and a man in one of the rooms seemed to be in charge. He got shy when he understood I was French. We talked with our hands about the price, something like $5, and he showed me the room. As a traveller constantly on a budget, I am used to cheap hotels, shared bathrooms, dirty blankets, etc. They are fine with me if they are in a city I like. The room had four beds along its four walls, an old TV, and a view on the mosque. There was one shared toilet and a sink; there was no shower, but they had no problem allowing me to stay!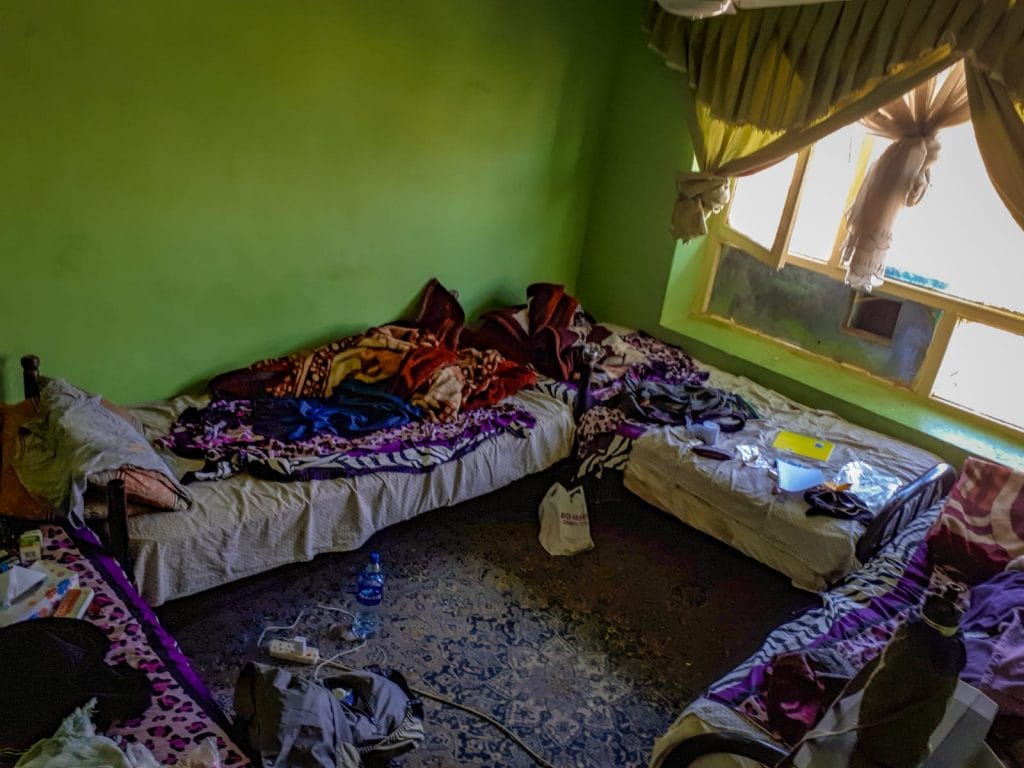 The guy explained that someone speaking English would come soon. So I dropped my bag and went out to change money, and everybody in the hotel told me again to beware of thieves stealing my phone. It was a warm and sunny afternoon, and it felt really good to walk in a shalwar kamize I had from a previous trip to Pakistan.
Money, sim card and food
I did my first tour of the lively market around the mosque compound, and it felt safe. I found a bank to change money. It was heavily guarded and crowded, but I was able to change money at a good rate. I could then buy a sim card, and I met some young guys selling some. We laughed because I could not speak Dari, but they understood I needed a sim. They installed it and did all the operations to start the services. They offered me some green tea, laughed some more, and again asked what my job was in Afghanistan, to which I replied, "no job, tourist." They were also confused.
The hotel, and actually my room, were just above a small restaurant roasting chicken and frying french fries on the sidewalk. I ate a massive shawarma there, and I could take my time to see what was around me. It was one of the busiest corners in the city centre, and the restaurant seemed very popular. Some little girls were begging for money by harrassing every passer-by, holding people's clothes, running towards them, and the restaurant employees were chasing them away like a cat and mouse game. It took a few minutes to notice the mothers around the scene collecting the money, and after a few days in the hotel, I noticed they were dropped off by a car every morning and taken away every night. That's the visible side of beggars' mafias.
Back at the hotel, a 20-year-old guy speaking good English was waiting for me. He made me fill out a form, got the money for the room, and explained that I could take a shower in the public showers down the street.
Getting hash
After all the formalities were done, we started talking. He was studying English to work in tourism. One of his fingers was tainted with blue ink, showing that he had voted in the parliamentary election the week before. I asked him if he knew where I could get hash, and he went to get some for me. While waiting for him and hanging around in the hotel, the others understood what was going on, so the guys working in the restaurant brought me to the hotel's rooftop and made me roll a piece of hash. In a matter of hours, I changed money, got a sim, ate, got a place to put my bag and sleep. I even had a nice piece of hash as the guy from the hotel came back with a tasty, shiny hash, flattened by the journey in his jeans back pocket.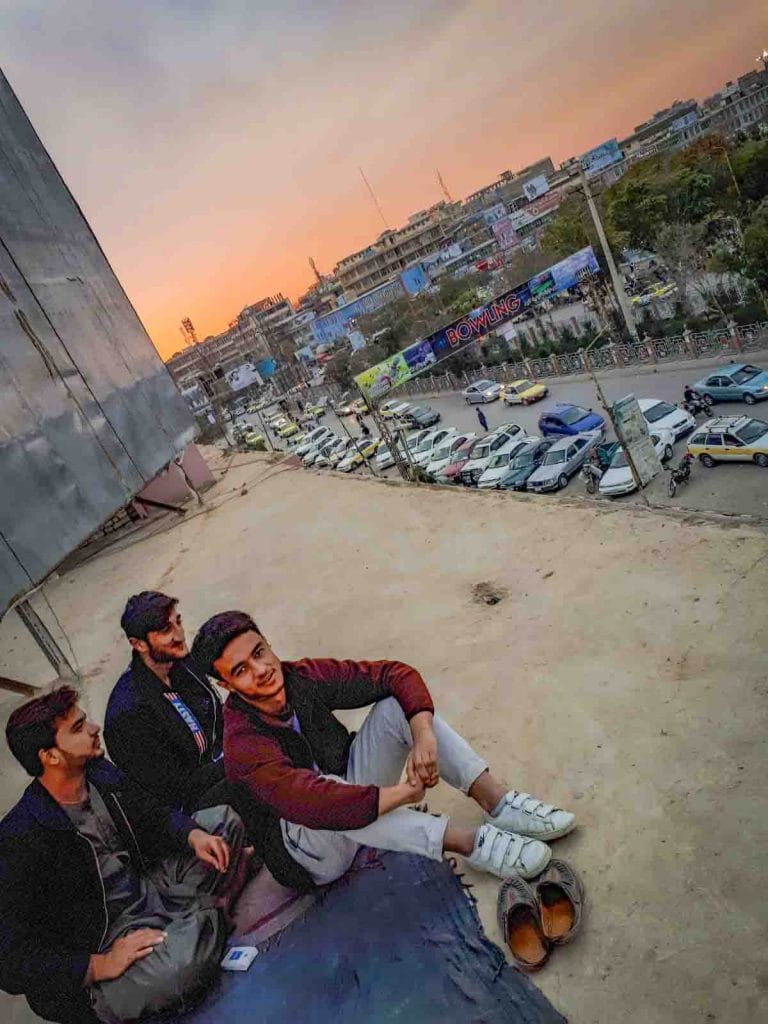 In terms of security, I felt that it was not so different from any city in Asia, and smoking on a rooftop overlooking the city of Mazar was a bit like a dream come true. All my worries were gone, and it felt like the place to be.
When it gets dark
Around sunset time, I went out to buy some water and the guy from the hotel told me before I went out "be careful, it is not France here". I remembered the embassy staff in Paris telling me the same thing, and walked out of the hotel stoned, thinking "yeah, yeah."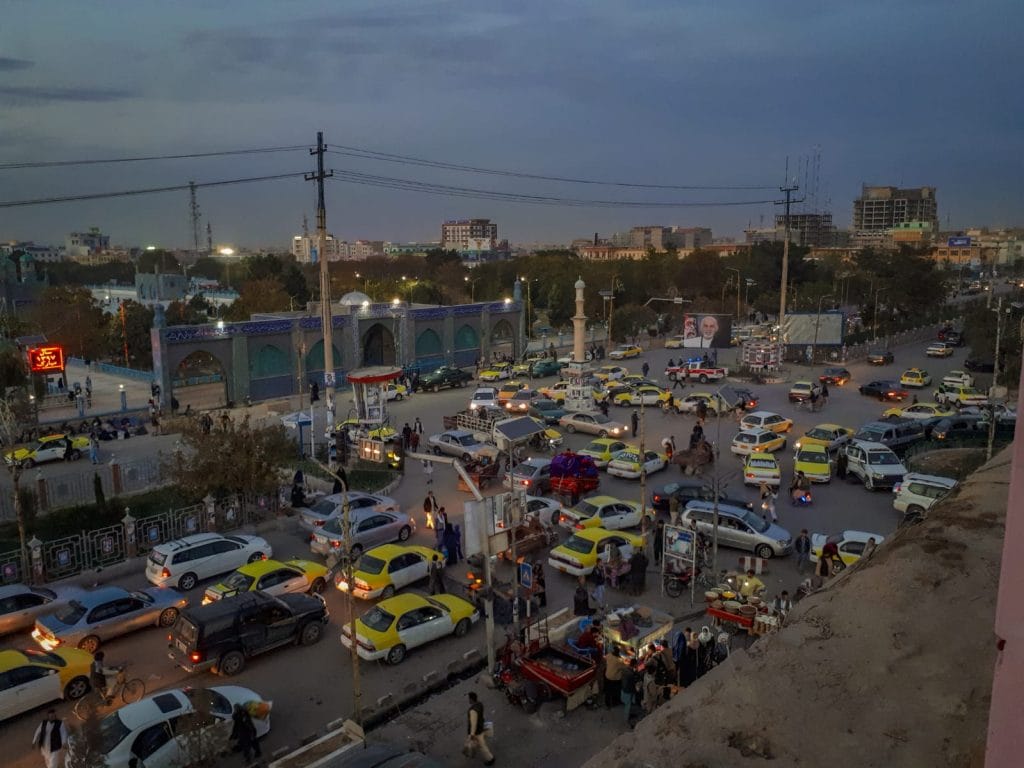 As I stepped out, high, I realised it got really dark, and that the nice afternoon vibe was gone. Cars rushing, honking, sirens, prayer calls, sellers screaming, darkness and flashes, people walking fast. I had a feeling I never felt before, that if something happened to me here and there, like being kidnapped or having a stroke, nobody would do anything, nobody would even notice. You can have this feeling in any big city, but there was a sense of fear, everybody seemed to be afraid of not getting home before night, so focused on their own path. I got my water, and went back to the hotel rooftop. It felt much better to observe this sunset frenzy from above.
When night fell, the city changed again and became extremely quiet. That was also a big difference with any city I travelled to, where markets stay active at least up to 10 PM. Traffic stopped, streets emptied, and calm settled. The streets at night belong to trucks and madmen. I felt safe enough to go out again, since I needed to eat. I had noticed a nice restaurant earlier, and I was looking forward to my first kabuli pulau. This time, the guy from the hotel told me to not go out and that the city wasn't safe at night. I told him that I really understood that, but I was just going to the corner to eat. It was not reassuring, but I felt better in an empty street than in the mess earlier. I got into this restaurant starving, exhausted, emotional, and really high. A cook was stirring a giant Kabuli, and as I tried to choose from Turkish, Hindi, or English, he asked "you, you want food ?", joining gesture to his words. My eyes opened up and I said, "Yes! Kabuli ? " He proposed other items. I said yes to all, and he came back with a massive plate of kabuli covering a piece of lamb, meat balls, salad, and curd. It was amazing.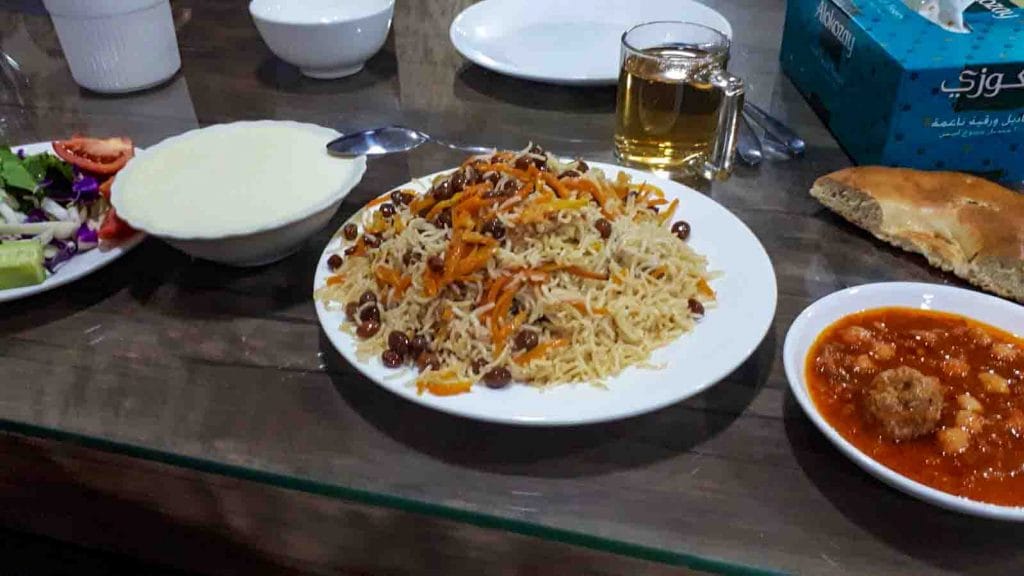 A last joint on the rooftop that evening helped reflect on the events of the day. I was feeling the excitement of travelling and being in a new place, but I was also feeling that something was not right, and that I'd better be cautious about the decision I made.
UP NEXT: Figuring out what I can do or not